Continental SportContact 7 Tyres Available in NORTHERN IRELAND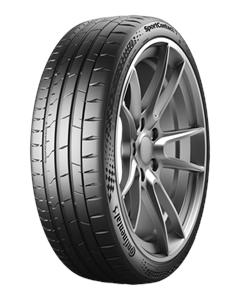 SportContact 7
Knowing you can always trust in your tyres gives you confidence. Our new SportContact™ 7 was developed to redefine tyre performance and provide unrivalled driving confidence.
Safe and confident driving in wet and dry conditions
New development of BlackChili³ compound harmonised with the tread pattern for long-lasting driving performance
Tailor-made for every vehicle class, each tyre provides the same legendary SportContact™ feel and performance
Features and Benefits
Adapts to every challenge the road has to offer
Driving conditions can change within seconds, you should always rely on a tyre that knows how to react. With our adaptive pattern, you will experience safe and consistent handling on wet and dry roads - even at high speeds.
Extends your joy of good performance
Enjoy next-level driving pleasure longer than ever before*. The perfect balance of the stiff low-void pattern and our soft BlackChili<sup>3</sup> enables ultra high-performance driving coupled with significantly increased mileage.*In comparison to the predecessor.
Performs great, no matter the size of your car
Every vehicle is different, that is why we tailor made our SportContact™ 7 for each vehicle class to ensure you can rely on our legendary SportContact™ performance whatever vehicle you drive.