Goodyear WRANGLER MT/R Tyres Available in NORTHERN IRELAND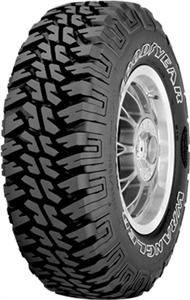 WRANGLER MT/R
Aggressive traction on wet or snowy terrain
Hard-working grip even in deep mud
Reduced risk of puncture
Hard-working grip even in deep mud
Tackle tough terrain with a tread designed to shed mud and grip solid ground. The tread pattern ensures deep and consistent surface traction.
Aggressive traction on wet or snowy terrain
Enjoy off-road driving in extreme weather. The Wrangler MT/R uses gripping edges and an advanced silica compound to maintain traction on wet and snow-covered ground.
Reduced risk of puncture
Don't let puncture worries keep you from the excitement of new terrain. Dura-wall Technology adds extra reinforcement to the tyre sidewalls, helping to prevent punctures.