Giti GitiSport S1 SUV Tyres Available in NORTHERN IRELAND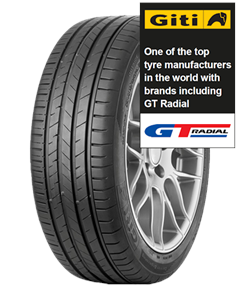 GitiSport S1 SUV
The Giti Sport S1 SUV is a Ultra High Performance Summer tyre designed to be fitted to SUV and 4x4.
Like GT Radial, Giti brand product is subjected to strenuous performance and quality control tests – and as a result is regularly selected by global vehicle manufacturers for European original equipment programmes. The Giti Sport S1 pattern is a UHP sports tyre, optimised for outstanding braking performance, precise handling and high stability. The pattern boasts the following key features:
Innovative tread compound for exceptional grip in both wet and dry conditions
Enhanced safety thanks to short braking distances
Well-balanced stiffness for direct and precise steering
Innovative profile design for increased fuel efficiency and mileage as well as even tyre wear
Optimized tread block geometry for minimal noise generation
Strong labelling scores including "A" wet grip
There are 24 reviews for GitiSport S1 SUV
Overall rating
Too soon to comment on the wear rate, but the wet and dry grip seem as good as the Volvo factory fit tyres, and the road noise seems a little quieter.
03/11/2020

LAND ROVER RANGE ROVER EVO